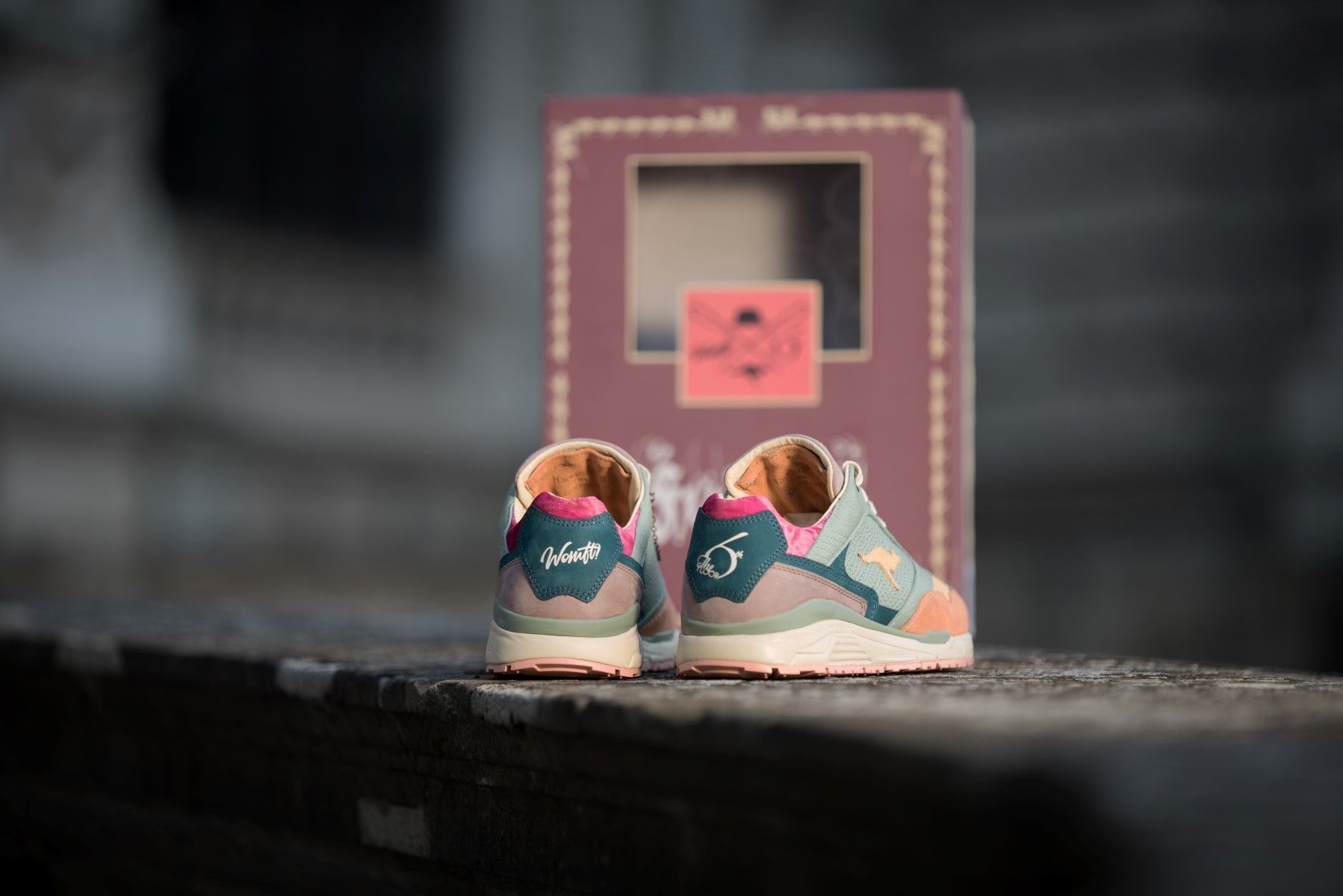 KangaROOS x WOMFT? x The 6th Floor "f14k3r" Ultimate 2 MiG
We gonn' party like it's our birthday…
First:
Happy Birthady to you – our WOMFT? community!
Some of you have been around since day one while many other sneakerlovers joined our community in the past 10 years. Our #womft is known worldwide and after 2 very successful collaborations with SONRA it was time to officially create a monument to ourselves.
Since "The 6th Floor" is also celebrating their 10th anniversary it was a no-brainer to combine both Viennese sneaker institutions for our own collaboration.
We had already some points of contact with KangaROOS, which was one of the first sneaker brands at "The 6th Floor" as well as a sponsor of the very first SNEAKERNESS in Vienna back in '09.
At this time KangaROOs had been around for 30 years, but it got quiet for the "shoes with a pocket".
In 2009 the German/European KangaROOS licencee and "shoe dog" Bernd Hummel revitalised the brand by not only bringing back old models out of the archive but also producing limited editions in the old "Hummel & Hummel" shoe factory in Münchweiler, Germany.
This resulted in many saught-after collaborations with the likes of Overkill (Abyss, Abyss Flip), 43einhalb (Ovis), Patta (Woodhollow) or Footshop (COAHS, COAHS Flip). A pretty good motivation to also deliver a future classic. After meeting with ROOS at their Parisienne showroom back in summer '19 to pitch our idea we were invited to their shoe factory a few weeks later.
When seeing the unadorned building in the middle of nowhere for the first time it's hard to believe that this is where all the magic happens. But once we sat at a table with plant manager Bernhard, senior global sales manager Adrian and Carla to go through all the different material and colour options we felt we were at a very special place.
After we got shown the production line and all the people working there we totally felt what was already obvious when seeing a pair of made in Germany KangaROOS: the craftmanship and passion is unparalleled!
No kangaroos in Austria?
We agreed on the collaboration theme pretty quick: "No Kangaroos in Austria" is a well known, not-that-funny slogan from the 70s since "Austria" and "Australia" are getting mixep up pretty often.
You'll hear this phrase coming from Austrian tourist all over the world while it is also widley visible on souvenir shirts when strolling through Vienna.
We played with idea what if there would actually be kangaroos in Austria? So we've combined Australia's landmark with one of Austria's symbols and theoreticall harnessed some kangaroos to the typical carriage – that's how the "f14k3r" was born!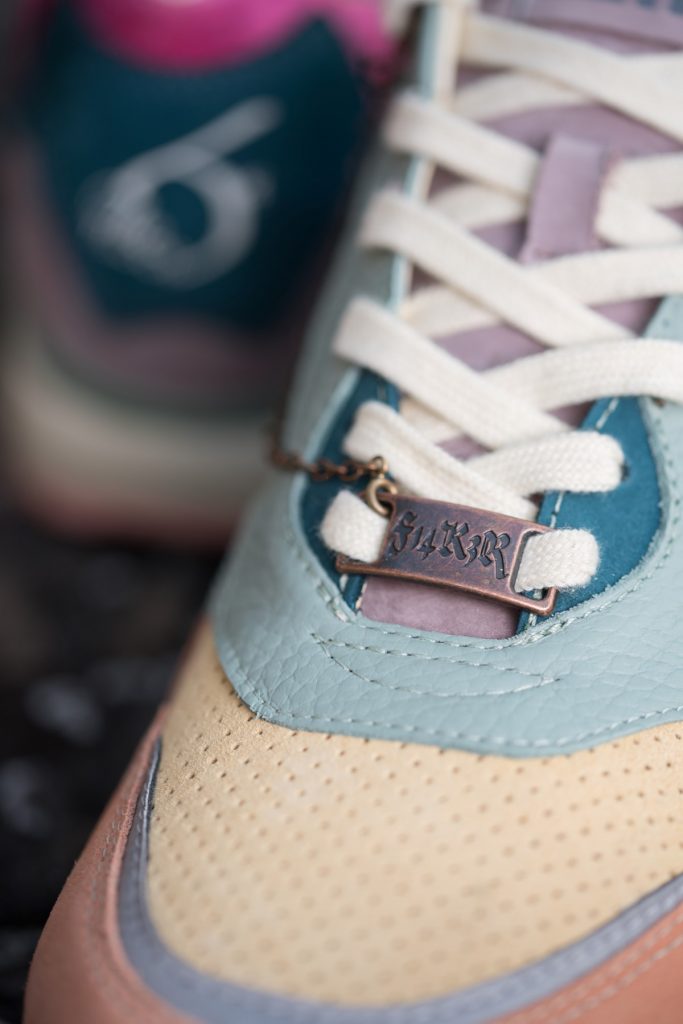 (the quirky spelling refers to our first sneaker collaboration with SONRA, the "+431")
The KangaROOS Ultimate 2 model was chosen as base with a colourway that should represent the draft animals as well as the carriage.
The toebox, consisting of two different shades of sweet orange-brown suede, combined with the offwhite midsole and pigskin lining, the brown suede stash pocket as well as the pink outsole represents the kangaroos. The other parts of the upper are decked out in premium grainy leather (mint) and supplemented by buttery nubuck (petrol & lilac). The colourway is set off by a lil' splash of magenta velvet on the collar and insole to mimic the Fiaker's typical seat covers. Our 10 years anniversary logo with crossed whips and a bowler hat can be found on the inside of the shoes while "WOMFT?" and "The 6th Floor" logos are gracing the heel panels. The top eyelets and lacejewels are made of copper scrap – the latter carries a secret…
Only the Viennese release will come with an additional extra by our goldsmith friend @ringxking: two small chains to symbolize the Fiaker's reins.
Every pair comes with bright yellow socks by @goodkids_badsociety to give your "f14k3r" an extra pop. But it doesn't stop there: the packaging came out really great, we even designed a new type of ROOS box with a window and some dope illustrations by @atelier_kamp to tell the project's story
Roos ahead!
The KangaROOS x The 6th Floor x WOMFT? "f14k3r" will be limited to 510 pairs so we hope everybody that really wants a pair will get one.
We are very excited to celebrate our release with you guys at "The 6th Floor" on September 19th – a global release will be up next. But the thing we mainly look forward to is seeing our shoe on your feet when you are tagging us with #womft and #f14k3r. Because that's what we love and live. On tot he next 10 years.
Look out: Roos ahead!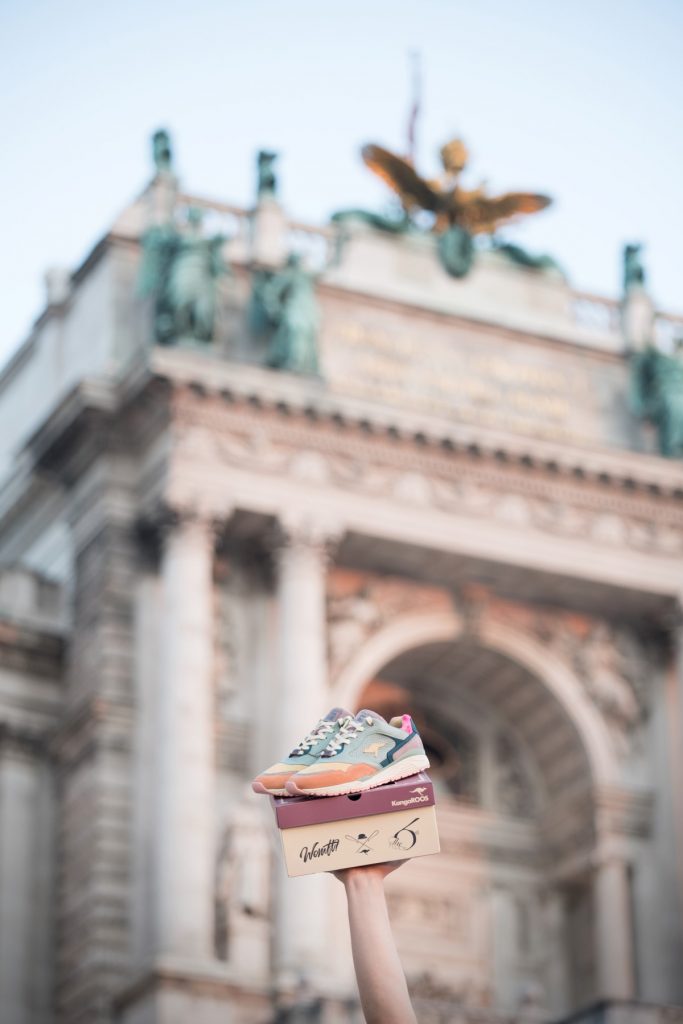 Price: 290€ /Sizes: EU 37 – 47
Credits: WOMFT?