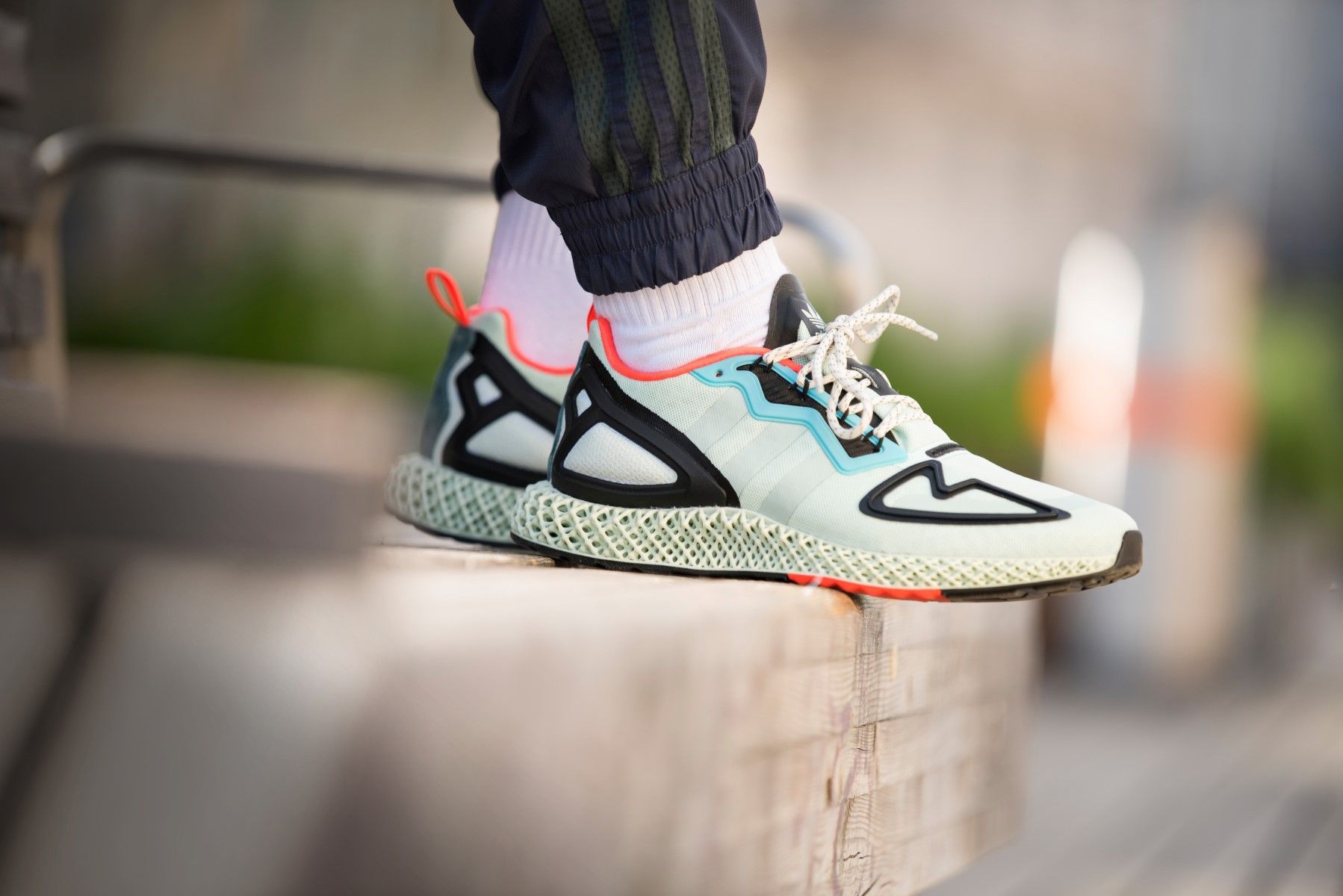 WOMFT? Review – ADIDAS ORIGINALS ZX 2K 4D "Green Dash"
Adidas and the now tiresome "4D" theme:
Momentum generated – momentum gone.
After the extremely limited Consortium Futurecraft / Future Runner 4D releases and the Daniel Arsham collabo , the hype quickly subsided again. First, too exclusive and than existing upper were played on the new sole technology: Alphaedge 4D, 4D Run 1.0, ZX 4000 4D – Did we forgot anyone? Quite possibly, because the number of models quickly became unmanageable and a strategy was no longer visible.
Now the ZX 2K 4D is a really "catchy" model name. As before, the slightly higher sole from the carbon printers is used, the upper looks a bit sleeker than on the predecessor ZX 4000 4D and it is not quite as slim. The TPU heel clip, the eyelets and the reinforcements at the toes are supposed to provide stability and refer to the ZX Heritage. The upper consists of 2 layers of comfortable Air Mesh and a small suede panel with triple leather decorates the heel. If Adidas had used this petrol colour on, the TPU elements instead of the baby blue and black, the colourway would be a real killer on feet. The "Dash Green" shade that determines the upper material is basically fresh and fits the mint-green 4D sole perfectly. But even here, the combination of colours seems arbitrary.
All this does not mean that the ZX 2K 4D is a bad sneaker. All in all, it is a pleasure to wear and the retail price for "a 4D shoe", which has now dropped to 220 Euros, is finally acceptable. Compared to the initial hype, the current releases are at most in the "Kreisliga" and once again it is symptomatic for the inability to build up and expand a self-runner in Herzogenaurach. Nevertheless the 4D topic is still exciting for us and who knows, maybe there will be a surprise. 4D must not become NMD!
Credits: WOMFT?