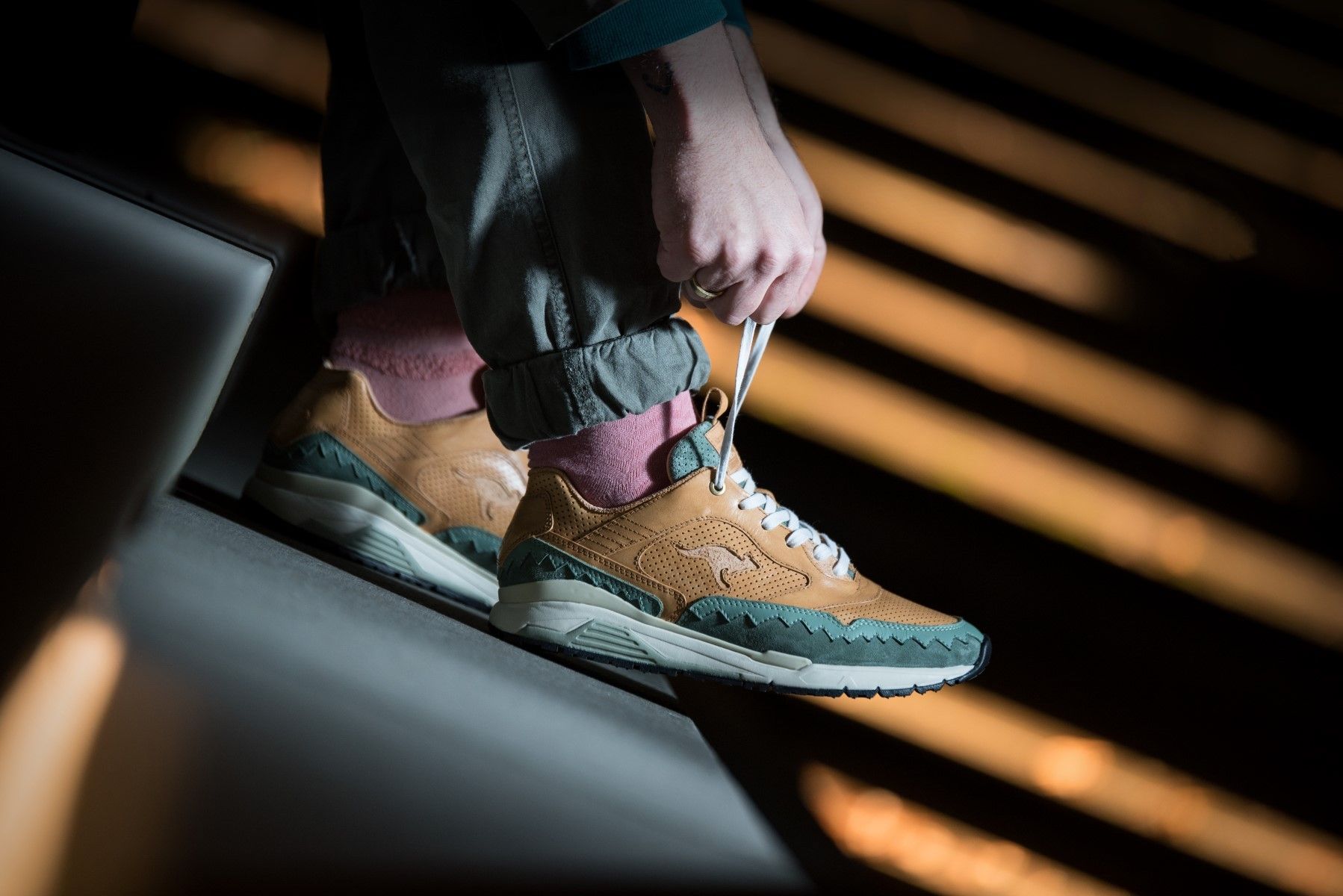 WOMFT? Review – Kangaroos x Footshop "The city of a hundred spires" Flip Ultimate 3
Footshop celebrates the 5th anniversary of its first Brick & Mortar store in Prague with the successor to the 2018 stroke of genius "The city of a hundred spires".
In cooperation with Kangaroos, Footshop initiated the Ultimate 3 last year. It was reworked for the second time. The basis for this new model is the Ultimate 2. Footshop added a double mudguard and heelwrap in serrated form. A rather unusual approach to collaboration, especially since brands are understandably reluctant to change their own designs. In this case, ROOS' is in trust with the gang around Peter Kovac. It has paid off!
The modification with the jagged panels gives the Ultimate 2 a completely new look and refers to the home of the boys: Prague, city of a hundred towers.
Compared to last year's release the Colourway was (partly) flipped and the leather lining was perforated and turned outwards. This Veg Tan leather makes a high quality impression and fits perfectly to the two mint tones on the heel and mudguard as well as on the Tonguetag. At the same time they are the colours of the Prague Narodni Muzeum/National Museum, which was also used as a symbol for the city as a graphic on the right heel. On the left heel there is the FTSHP x Kangaroos logo; the "S" has been replaced by a "5" to indicate the anniversary.
The Colourblocking has already proved itself and works really well with the "Flip". The sneaker is handcrafted in Germany and sits on a dirty white midsole with Dynacoil insert in light mint and black outsole. Also at the foot the "TCOAHS – Flip" is very good!
Unfortunately, the slightly uncomfortable branding on the insole has not been forgotten: like the first part, a jagged leather patch on the inside of the shoe ensures light triggers the comfort a bit. But we assume that the problem will not arise with a longer wearing time.
Altogether, it is a very, very strong outcome of Kangaroos and Footshop! Those who didn't get anything at the Footshop release last week have the chance to get this limited MiG piece of jewellery from the usual suspects again this Saturday.
Photocredits: WOMFT?