WOMFT? Review – Chrome Industries Niko Camera Backpack [sponsored]
Photography is an essential part of our passion for sneakers. Similar to the shoes themselves, the equipment is dear and expensive. So it has to be in good hands!
As sneakerheads we are not very decisive when it comes to choosing shoes. When it comes to choosing the equipment to take with us, things are the same. So space is needed! Also the style has to fit, of course. It has to be pretty and chic! So there are a lot of criteria which clear the field of camera backpacks quickly.
We are lucky that the distribution of New Balance shoes, which we really like to review, also represents many other pretty good brands and brings them to Austria. The good contact to CHRISsports has been with us for several years now. Thanks to Harald for the long cooperation.
Last year they surprised our photographer with a new backpack, which also combined the mentioned requirements. Since then he has been a reliable companion for Julius: WOMFT? Shootings, one month of India, weekend trips, bicycle tours or photo jobs – he was always a part of it. No matter if desert, rain or bicycle crash, nothing ever happened to the camera or the lenses and the backpack also looks fine. Nothing has to stay at home, 2 bodies, 6 lenses, 1 flash, 1 transmitter, spare batteries, reflector and thin jacket fit in. The analog snapshots and a 0.5 litre water bottle can also be accommodated. AND: The tripod can also be goes on trip!
Thanks to the straps the bag is very well and securely to carry, even when its full of stuff during cycling. Sweating does not play a special role here either.
Belts and straps are attached on all sides. For everyday use, this means that you can hold or lash it perfectly in any situation. For example, very pleasant when backpacking. Also a jacket or tripod can be stowed away so well at the backpack. The reflectors increase safety on the road. Sounds nerdy, but looks great! In our opinion, the latter applies to the whole backpack. It is beautiful, practical, reliable and inconspicuous. Clear purchase recommendation.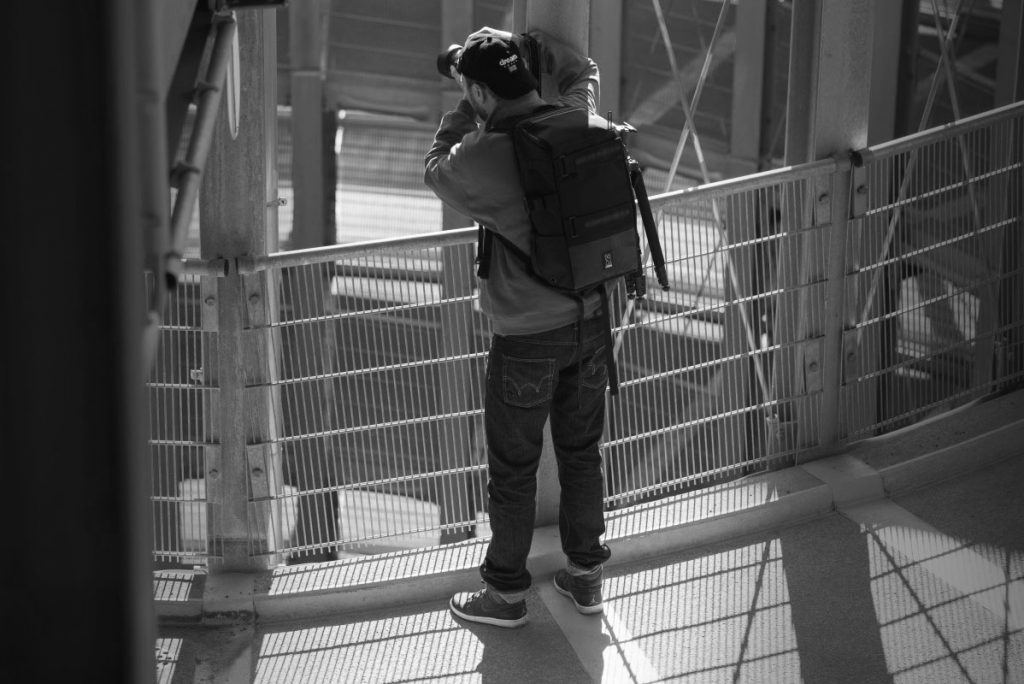 Photocredits: WOMFT?